If you're ready to dive into a custom pool on the first warm day next summer, start your pool installation project today! Design in the winter, build throughout the spring and make a big splash by Memorial Day in a brand new custom swimming pool.
As you start to plan your pool design project, you may wonder whether you should work with a standard pool installation contractor, or whether there's another expert that can help you with your pool design/build project.
Today, we're breaking down some of the top reasons to work with an outdoor living professional or a professional custom pool design company instead of opting for a standard pool installer.
Custom Pool Designers Help You Avoid Costly Pool Installation Pitfalls
At Milosi, we design and build complete backyard spaces. We look at the overall project, not just the pool, to create your dream outdoor space. Standard pool companies will place a pool in your yard and that will be the end of your project. With Milosi, everything from your grading and drainage to the outdoor living design around your pool is considered to create a luxury backyard with a cohesive, complete design.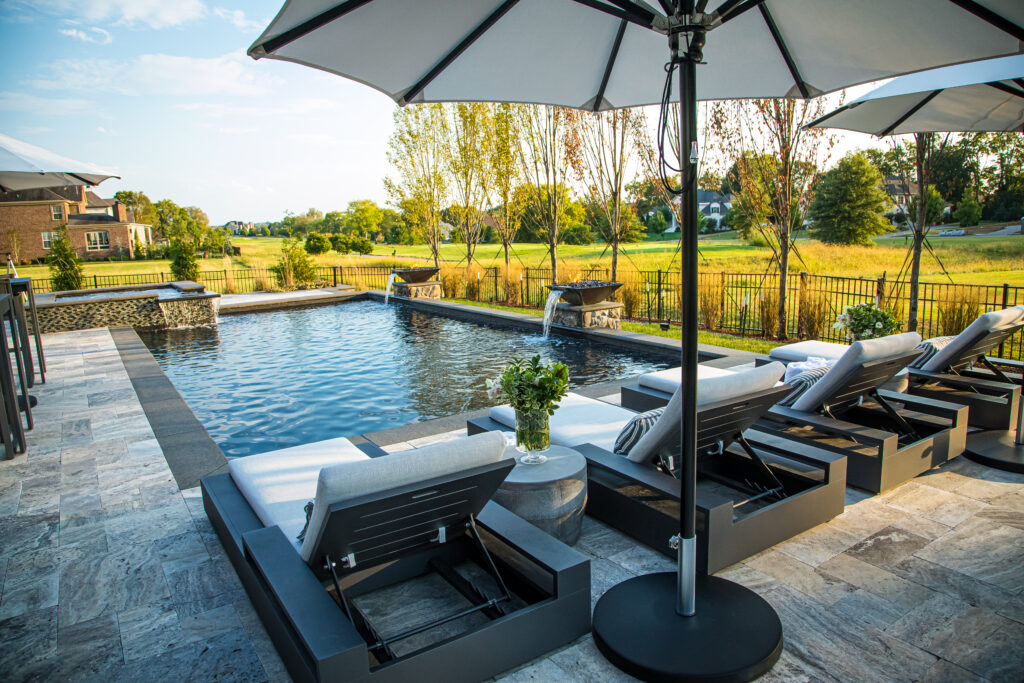 With a standard pool installation, you're getting a one-size-fits-all shape placed into your yard. Instead of designing your outdoor living spaces around your pool, standard pool companies build a conventional shape without designing it to complement your home and landscaping. Standard pool installation companies don't always consider the overall appeal and use of your entire outdoor space when they are planning your pool. In these kinds of projects, landscaping and hardscaping often go unaddressed, and homeowners end up hiring another contractor to finish out the project.
A lot can go wrong with a pool project, from visually wrong leveling to filtration issues and improper measurements that impact the entire pool. Pool projects should be worked on by experienced contractors so that everything from the leveling to the plumbing, heating, design, drainage, and grading all are handled professionally.
Additionally, with a one-size-fits-all company, tailored service and workmanship may go overlooked. Once you've signed on and the digging is underway, you may have trouble reaching the project manager to discuss timeline, workmanship issues, and other potentially costly setbacks that have your dollars going down the drain.
With a custom swimming pool company or outdoor living professional like Milosi, you'll be assigned a dedicated project manager who will ensure that client services and workmanship are the top priority.
Get Personalized Design Services
With a custom pool from Milosi, we start with a consultation that involves a dive into your dreams for your backyard as a whole, and specifically, your needs for a pool.
We talk about how you will use a pool, whether that be for lap-swimming, sunbathing, therapy, playtime with the family, and more. We will really seek to understand what would make you fall in love with being in or around your pool.
Only then will we wade into the design phase. Here, our pool designers will work to create a sketch of your pool, incorporating pool features like sunbathing decks, pool lighting, fire features, custom-stone decking, and more. The features are all chosen to reflect your style and how you will use your pool.
Additionally, we will work to make the pool a natural inclusion within your outdoor oasis. We will design lush landscaping to surround the pool area, hardscaping to create a distinct space in the yard for the pool, and outdoor seating areas and an outdoor kitchen to complete the design. We will also address safety concerns and design and erect barriers as needed to protect children and pets.
Everything from the placement of your pool in your yard to the landscaping around it and the water in it can be designed with your lifestyle in mind.
Incorporate Cool Features
Unlike a standard pool subcontractor, the entire Milosi pools team is focused on bringing to life dream backyards for our clients. To achieve this end, we hire the best pool installers and the brightest swimming pool designers.
We are intent on bringing together your entire outdoor space, as opposed to working through just one feature in your backyard. This allows us to create a cohesive and compelling outdoor area that truly represents you.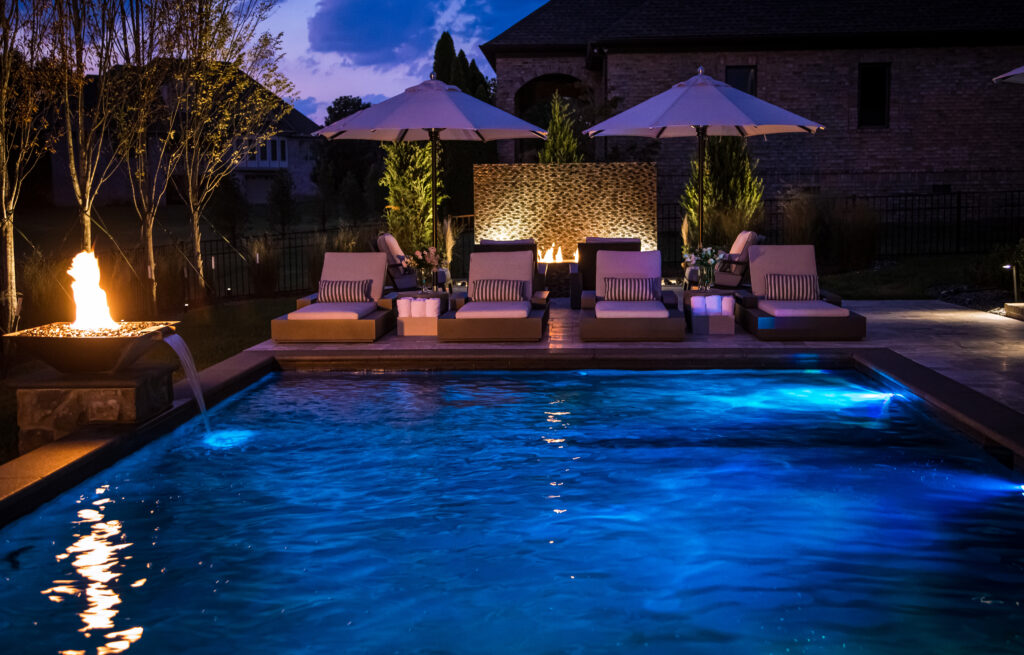 The construction of your pool is no different. We look to include pool features that will enhance your enjoyment and serve you well for years to come. Here are a few of our favorite swimming pool features to explore:
Water Type
The water can either be saltwater or chlorine, depending on your appetite for maintenance, up-front installation costs, and personal preference for swimming. Chlorine pools cost less to install but are harsher on hair, eyes, and swimwear. Alternatively, saltwater pools have a higher upfront cost but are gentler to swim in and contain fewer chemicals.
Pool Depth
The depth of your pool is another feature you can choose. Do you want to dive into the deep end, splash in from a slide, float with a drink all summer, or all of the above? A custom pool design will have whatever depth best suits your lifestyle.
Heating and Lighting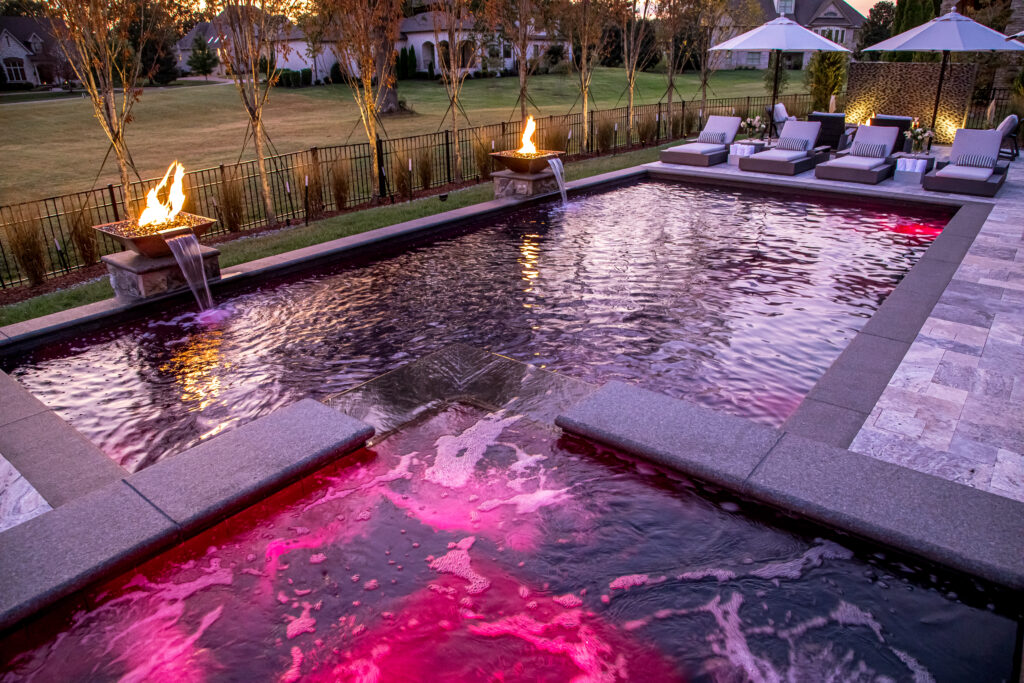 Next, the heating and lighting can also be adjusted in a custom pool. If you want your pool to be heated, a custom pool company can install heaters that you can control from your phone to keep your pool warm in cooler months. The same goes for lighting; pool lighting can be designed for ambiance, safety, and nighttime usage so you can swim at any hour and your pool can be beautifully lit even when you aren't using it at night.
Water and Fire Features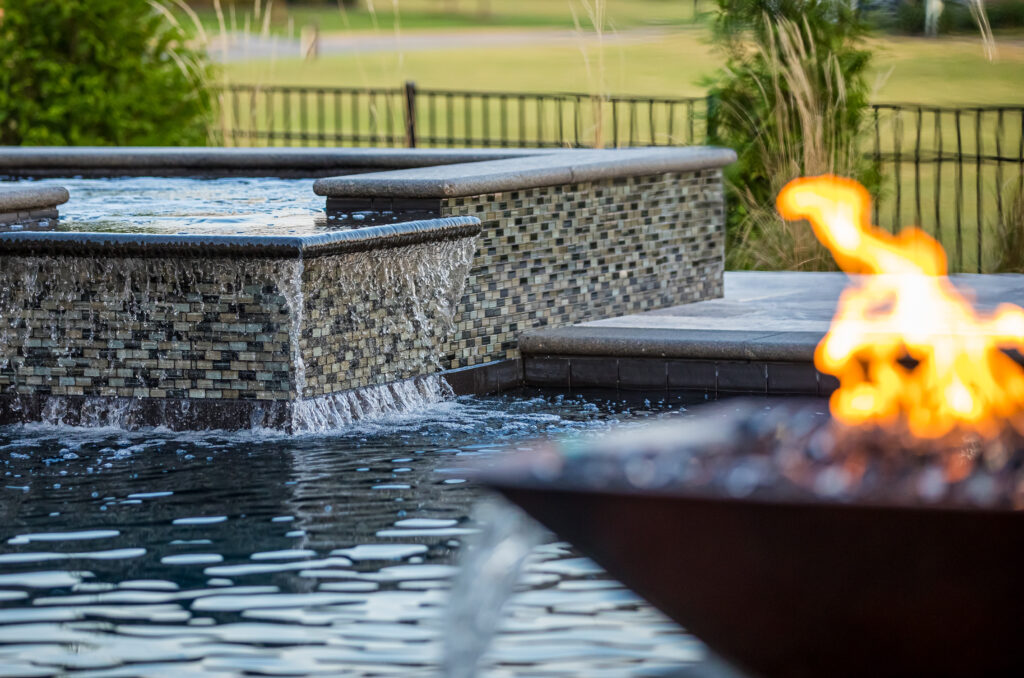 Moving water features like fountains and waterfalls elevate the design of your pool and add ambient sound to your outdoor space. On a custom pool, fountains can be placed anywhere inside or outside your pool and spa.
Similarly, waterfalls add a relaxing, peaceful sound and visual appeal to your pool. Pool waterfalls are a great way to visually connect different sections of your pool, like a hot tub, with the main pool area.
Fire features and lighting add an extra layer of warmth and beauty to custom pool designs, especially at night. The contrast of cool-toned water with amber light makes your outdoor pool inviting and cozy for evenings of entertaining or nighttime swimming.
Fire can be contained in decorative bowls, torches, and firepits, depending on how much light you want to include in your pool design and what aligns with your style.
Seating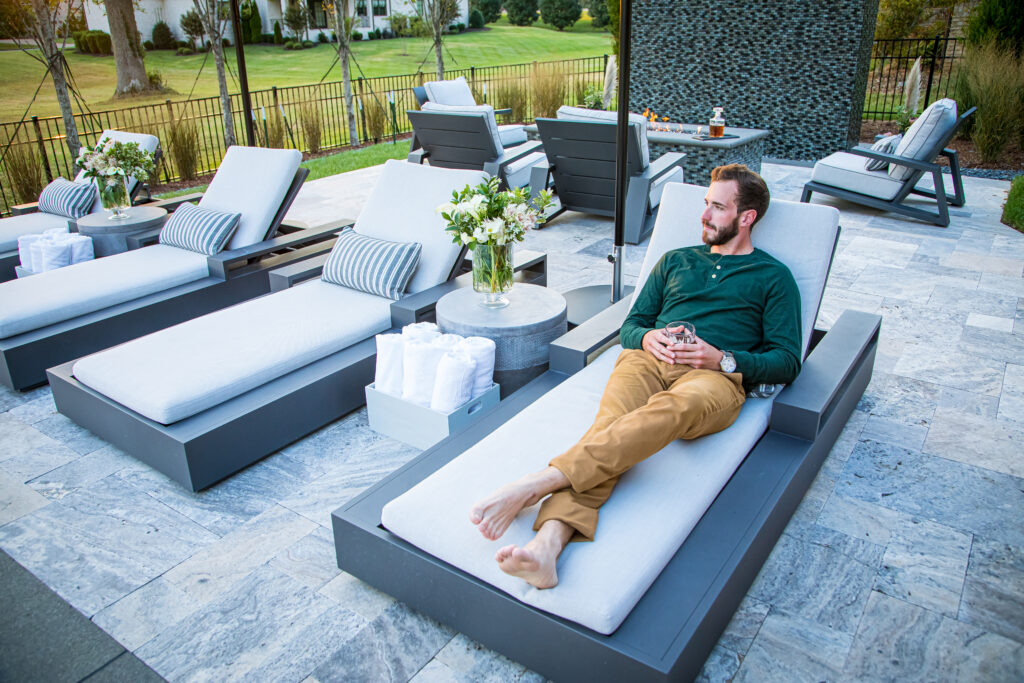 Water loungers, tables, benches, and seating can be placed in and around your pool to keep you cool. Custom pools can be built with tanning ledges, chairs, and umbrellas so you can stay in the water all summer long. Another popular feature is swim-up bars, connecting the ledge of the pool to a fully-stocked bar, so your guests can refill their drinks without drying off.
Spas
Custom jets, lighting and heating systems can be added into the spa sections of your pool for year-round swimming and added luxury. The light and temperature of your spa feature can be designed to be completely controlled from your phone or inside your house, so you can warm it up or cool it down with the touch of a button.
Slides
Keep the kids cool and entertained all summer with a slide. Pool slides make for endless hours of fun, and a custom design can hide the slide away in natural rock formations so they do not interfere with your view or other aspects of your landscape design.
Beach Entrance
Beach entrances create a walk-in space on one side of your pool so you can dip your toes into the seaside lifestyle from the comfort of home. The design of a beach entry or "zero-entry" pool makes pools accessible for kids, the elderly, and people with disabilities to enter the pool more easily.
Build a Unique Shape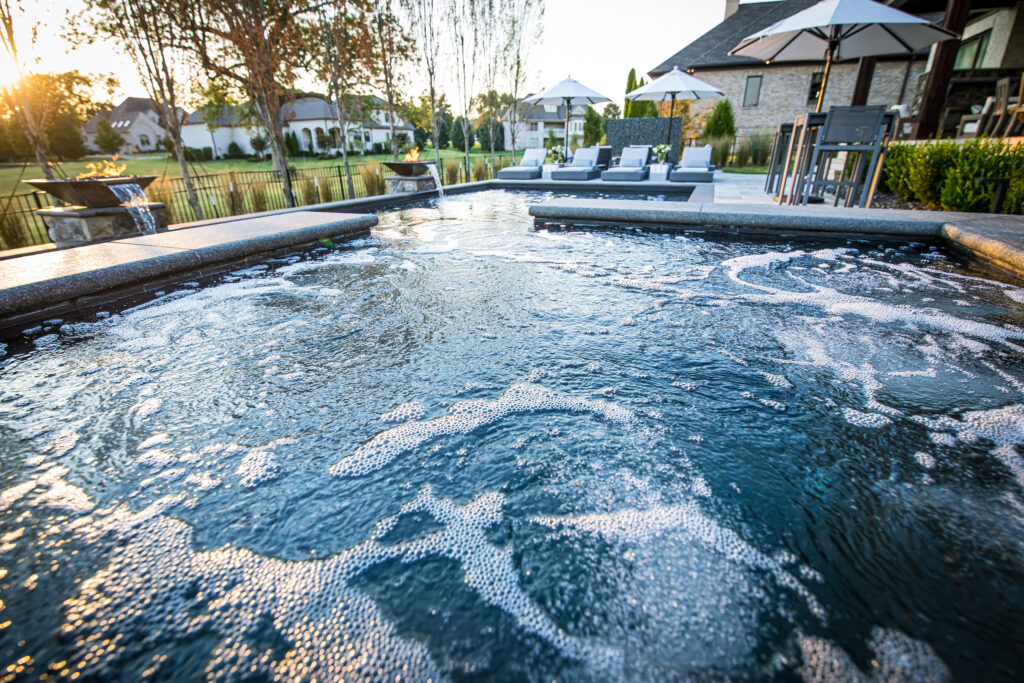 The next thing to nail down is the shape of your pool. Standard pool installation allows for the installation of the most common shapes: kidney, rectangle, figure-8. However, with a custom pool design, you can create any shape in your outdoor space.
Our design team can build any shape pool that best fits your outdoor space and your design taste, including geometric pools, roman and greek pools, and free form or lagoon pools.
Select Optimal Placement
Building a custom pool starts with surveying and design. First, our team will assess your property to determine the optimal placement for your pool. This decision is made by taking into account property lines, grading, drainage, precipitation influence, privacy, and sunlight. Without careful consideration and placement, your pool could lose out on valued privacy and optimal sunlight for summer swimming.
During this process, we also place landscaping, hardscaping, and outdoor living features in your backyard design to create a complete outdoor space.
The design phase takes aesthetics into account to integrate your pool into your landscape and hardscape for a seamless look. This is where you can choose each feature of your custom pool.
Work with a Fully-Licensed Contractor
A pool company with fully-licensed contractors and designers, like Milosi, can bring your dream to life exactly how you imagine it. A standard pool installation company might subcontract a basic design.
The difference includes seamless project management and a custom final result that reflects attention to detail and luxurious features you can't get with a standard pool company.
At Milosi, our swimming pool design team, project managers, and contractors work together to bring your dream pool to life. Are you dreaming of diving in? Contact Milosi today to get started on your pool project now so you can dive in next summer!