Our Process for a Custom Backyard Pool Space
The Consultation
Our ultimate goal is to transform your property into a custom outdoor oasis that you cannot wait to get home to! For us, every project starts with an in-person consultation so we can design the entire space with your lifestyle in mind. This is where the dream activates! It doesn't matter if you're a seasoned homeowner, or if this is your first time building a luxury outdoor living space or pool for your home. We take our time to understand your wants and needs to make recommendations. 
The consultation also includes an initial site assessment of your property to identify property lines, egress, setbacks, elevation, and drainage to make your dream a reality. With our years of experience, we understand that the foundation of any beautiful project is focused on proper drainage.
Once the initial consultation is complete, the real fun begins! We commence working on your custom design which can include conceptual plans and renderings- depending on the design package you choose for your project.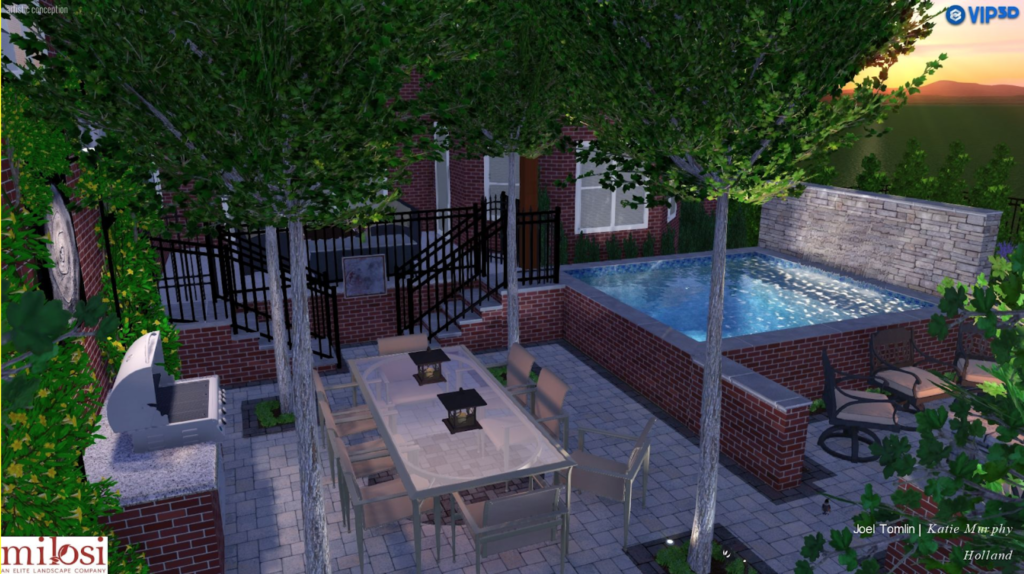 Designing Your Outdoor Pool Space
Every backyard is unique, and so are our designs. Our design process takes the features of your individual property into account to maximize the possibilities for your space. Our decades of design experience, paired with our mission to exceed expectations, plays perfectly into planning your outdoor space.
At Milosi, we don't just build a pool, we build a backyard.  This means we focus on each and every element and detail to bring a complete project to life.  These elements and details include the grading, drainage, pool, spa, walls, pool house, fire features, plantings, irrigation, lightings, and more. 
The Build Process for a Custom Backyard Space
Depending on the time of year, the build process for a custom pool and backyard takes around three to five months. A great benefit of starting your custom backyard renovation project in the winter is that you will be less inconvenienced by construction during months usually spent indoors.
Next, depending on the pool type we will begin the site preparation and excavation phase. The following phase involves the pool shell and rough-in of various utilities followed by our gorgeous masonry work. Once the masonry phase has been completed you're in the home stretch to start on all the details of the project including, but not limited to, planting, fencing, carpentry, etc.
Finally, the interior finish of the pool is installed, the pool is filled with water, and we get the joy of calling in for your final inspection which says you may now swim and create life-long memories in your very own pool! With the pool piece of your project finalized, our build team finalizes the hardscaping and landscaping aspects of your yard. As an elite outdoor living company, our job isn't done until your whole backyard is finished.
Maintaining Your Dream Space
Milosi's full-service maintenance plans care for your turf, trees, shrubs, and plants on a regular basis through a scheduled yearly process that prioritizes the beauty of your outdoor space and the continued health of your landscape. This includes the maintenance of your landscaping as well as the upkeep of your hardscapes. Under our plans, we can handle every aspect of your maintenance on a schedule, and your client relationship manager will oversee quality control and will ensure that your landscape's upkeep never crosses your mind.
Ready to Dive into a Custom Backyard Transformation?
Our clients choose us to bring their dreams to life in their backyard. Are you ready to create an outdoor oasis? Contact us today to get in touch with one of our consultants and kick off your project.