The Dearmin Outdoor Living Project
Creating a Private Outdoor Oasis
The outdoor entertaining space we created at the Dearmin residence began with a client inquiry. The homeowners lived near our Hendersonville location and had seen our trucks. When the time was right, they called our team and pitched us their dream outdoor space.
OUTDOOR ENTERTAINING SPACE
First, they wanted privacy and updated outdoor entertaining space with plenty of seating. Additionally, they hoped for a quiet place to read, an outdoor fire pit, and a large patio.
The challenge on this property was the elevation. The home is at the top of a slope in the middle of a dense neighborhood. With the back patio risen, their outdoor living space was completely visible to their surrounding neighbors. This lack of privacy was preventing our clients from fully enjoying their outdoor space.
In a residential neighborhood, privacy can be hard to come by.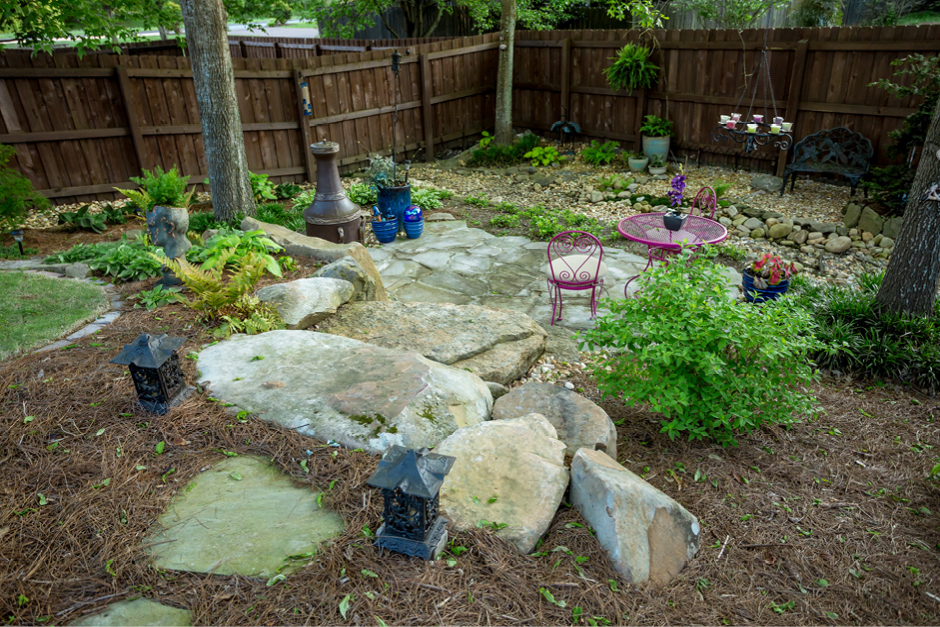 Adjusting the Grading for an Outdoor Entertaining Space
First, we wanted to lower the elevation of the patio to provide more privacy, so our first step was to remove the existing raised patio. Next, we added steps down from the house to access this new patio. Finally, we worked with the grading of the yard to smooth it out and decrease the slope that existed.
Creating the Reading Nook
Next, our clients wanted to enjoy their new privacy with a quiet reading nook. We built steps off of the deck and a path to a flagstone patio. Additionally, we created a boulder garden, designed into a garden sanctuary for reading or drinking a glass of wine under the trees.
Outdoor Entertaining Space
By making the elevation uniform throughout our clients' backyard, we created much more space for a grill and outdoor dining area to go. The large outdoor grilling station hosts a large bartop and intricate stonework. Additionally, near the grill is a sitting area around a custom outdoor fire pit, created with coordinating stonework.
Finally, the covered seating area features lounge chairs and loveseats; a shady gathering place for our clients to relax day and night.
This project was a dream come true for our clients. We are proud that we could bring their dream to life and create a space they love to be in.
Have an Outdoor Living Project to Start?