The Dyson Outdoor Living Project
We first worked on the Dyson property with a builder, and then on a lighting project before our clients reached out to us for the outdoor living project we're detailing here. They had enjoyed working with us on the previous projects and were ready to tackle their outdoor living project.
OUTDOOR FIREPLACE, GRILLING STATION AND WATER FEATURE
Our first step in this process was to meet with our clients on their property and talk through their wishlist for their dream outdoor living area. Our clients love grilling and smoking, so an outdoor kitchen was important to them. They also wanted a water feature and a grand fireplace to create ambiance near their seating area.
Our client has an engineering background, so he was interested in working closely with us on the construction documents. We proposed our design through extensive plans as we worked on planning out the outdoor living space.
For this project, we needed to consider the elevation; the back of the property drops off into a thick woodline. Next, we wanted to maximize the view of the beautiful, lush woodline in our design. Finally, we considered the perspective and access from the house.
With our priorities in mind, we started bringing it to life.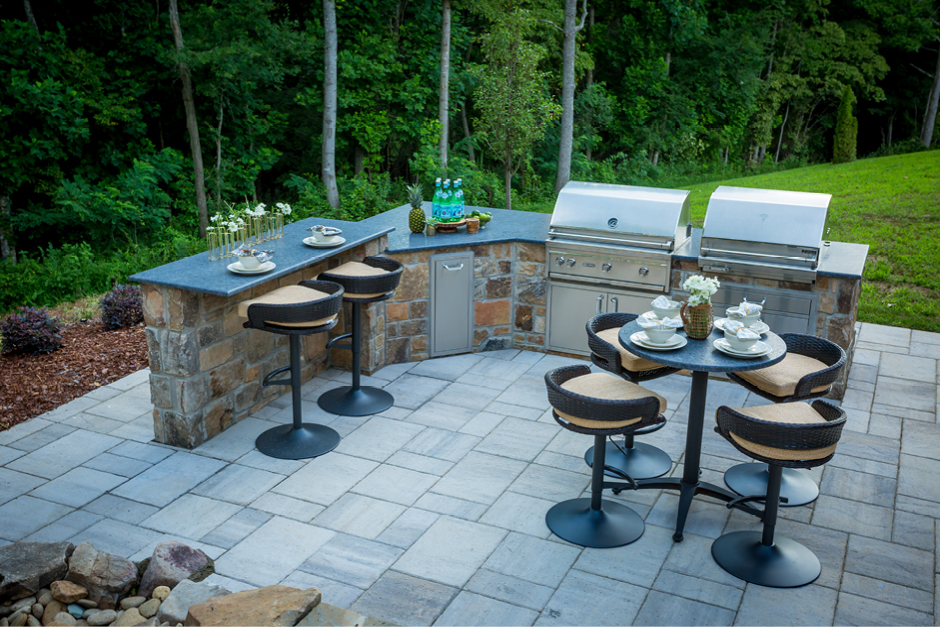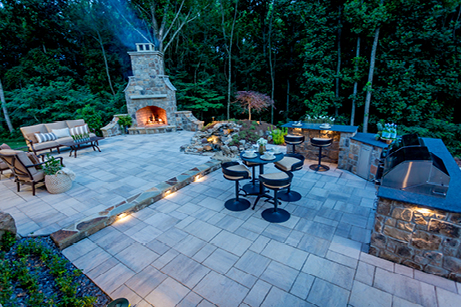 This project, like every project, had a unique set of design challenges for us.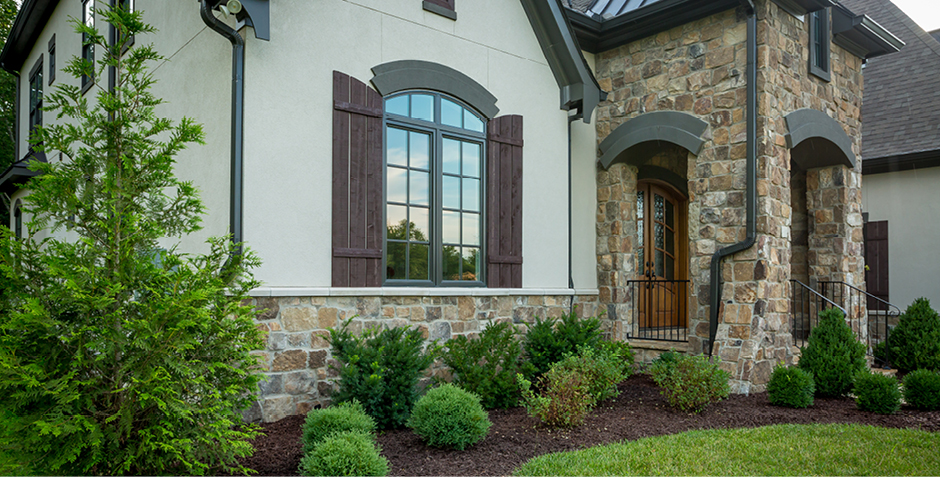 Outdoor Living Project Water Feature
First, our clients wanted to bring a water feature onto their outdoor living project: they loved the relaxing sound of moving water. As we discussed options with them, we decided that a pondless water feature would be best for their space. With a pondless water feature, we were able to give them the look and sound of water without installing a pond that would require routine cleaning and maintenance.
We designed a multi-tier, multi-drop water feature. The boulder design brings out the rustic style our clients were looking for, and the sound of the different levels bring a relaxing ambiance to the space. LED lights highlight the design at night.
Outdoor Living Project Kitchen
The water feature is next to the outdoor kitchen and bartop. To begin the outdoor kitchen design, we had a thorough consultation with our clients to understand what they wanted to be able to use their outdoor kitchen for. We knew we needed to include enough space for smoking, grilling, and outdoor dining.
Next, we placed the grilling station next to the treeline. The bartop faces the trees so our clients can see their beautiful view as often as possible. Placing the bartop at the edge of the patio space also maximized the size of the patio.
The final outdoor living project seamlessly incorporates a traditional, rustic design into the existing landscape. We're thrilled to have created a space that we know our clients can enjoy for years to come.
Have an Outdoor Living Project to Start?